Article featured on the homepage of www.farmingdale.edu
http://www.farmingdale.edu/social-media/student-spotlight/lopiccolo.shtml
<![if !vml]>

<![endif]><![if !vml]>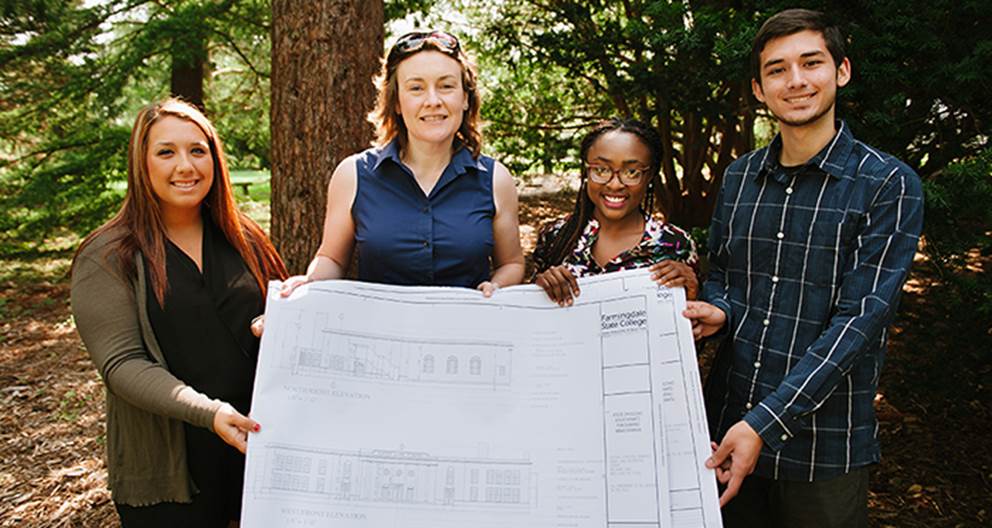 <![endif]>
Architecture and Construction Management Students Get Out of the Classroom and into the "Real World"
The idea behind visiting eight Town of Islip recreation centers – to provide existing-condition drawings of the buildings and propose ways to increase their energy efficiency – was the brainchild of Professor Orla LoPiccolo, an assistant professor in the architecture and construction management department. Two goals of the project were to provide the 28 students who participated in the assignment to work with "real-world" clients and to give them a project to kick-start their resumes. Based on the response by Islip's deputy commissioner of the Department of Parks and Recreation – who said the drawings would be used for space planning and as the basis for future construction projects – the exercise was a smashing success.
"Having a learning experience outside the classroom with a project that benefits a real client is a marketable skill that is invaluable in the job market," Professor LoPiccolo said. "These students understood the importance of this project for the Town, for their course grade, and as a benefit for their resumes and portfolios."
Junior Steven Chiocchio, an architectural engineering technology major and leader of his team, echoed Professor LoPiccolo's words.
"The most educational classes for me are the classes with group or off-campus projects. I understand the concepts covered in the classroom when we go out into the field and experience them."
For senior Tonye Jack, a regular on both the Dean's List and President's List, the importance of the project went well beyond burnishing her resume.
"I am Nigerian, and there is a need for improvements in my country's infrastructure," Jack, a construction management engineering technology major, said. "That is what drew me to study construction engineering, so that one day I can help make a difference and improve the quality of infrastructure in my country."
Coming at it from yet another perspective is Nicolas Comito, who literally grew up in the construction industry.
"Ever since I was old enough to hold a hammer I've been building," said Comito, who is working on a BS in construction management engineering technology. "After working in the industry for almost 10 years I realized that getting my degree would be the best way to enhance my career."
And for Lauren Liegmann, also a construction management engineering technology major, the joy was in the work itself.
"I really enjoy learning about the mechanics of buildings and how they work," said Leigmann, who will graduate in 2016.
Professor LoPiccolo has been organizing these service learning projects since 2009. Right out of the gate the project was a big hit, with Professor LoPiccolo's students' work being used to help kick start a program to refurbish a dozen veterans' facilities in Islip Town. Other projects in the program have included work at senior centers and fire stations.
"Professor LoPiccolo is the only professor I have had that takes you off campus to learn in the field rather than solely reading the textbook or learning from lectures," Chiocchio, a frequent Dean's List student said.
Also a Dean's List student, as well as a member of the Society of Women in Engineering, Liegmann enjoys both the work and the notion that she is being somewhat of a trailblazer. "Being in the construction field, as a woman, I am underrepresented because of my gender. Here at Farmingdale I plan on leaving my mark as a success in the field."
The Department of Architecture and Construction is part of Farmingdale's School of Engineering Technology. More than 300 students are enrolled in BS degrees in Architectural Engineering Technology and Construction Management Engineering Technology.
Click here to for screenshots of the article