Kervis Designs & Projects Webpage
(Site Space Provided By SUNY Farmingdale)
Welcome to my page.
<![if !vml]>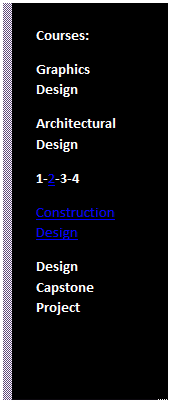 <![endif]>News:
Currently posting projects up according to course timeline.
Home page is still under development.
About Me:
I am currently a college student at SUNY Farmingdale studying in the field of architectural engineering technology.
I enjoy designing, as well as photography, music and writing.
I consider myself a well rounded person, and confident enough to do anything.
James Delucca R.A once said, Those who try make mistakes, me? I try not to make mistakes.
Contact Information:
E-mail: Bustkv@farmingdale.edu
Resume: Currently not available
Networks: (Have one?)